Perhaps you're a real estate closing attorney in Chicago that wants to add more value to your clientele and add property tax appeal as a related niche. Or maybe you're a seasoned property tax attorney in Chicago and you desire to automate and scale administrative components of the residential sector of your business growth. Either way, you're in the right place. Grow your clientele within the real estate property tax appeal niche of your legal practice with our Uniformity King software.
Problem:
Illinois was the 2nd most popular state that people moved away from in 2018.
Despite the Jack Frost and the traffic, high property taxes are a big reason that people are leaving.
People are moving out of Illinois to escape high taxes. We can reverse this trend by lowering taxes, cutting red tape and creating more jobs. pic.twitter.com/6nP8Nr5PPf

— Governor Rauner (@GovRauner) December 28, 2017
It is estimated, by Schwaps, that 1/3 of all 1,056,161 (regression class) residential properties in Cook County, Illinois are over-assessed and thus over-paying in real estate property tax.
This means that approximately 352,054 homeowners in Chicago could use your help.
Solution:
Grow your clientele within the real estate property tax appeal niche of your legal practice with our Uniformity King software. The Cook County property tax appeal system is one that is very time-sensitive. Our software allows you to quickly create analysis and appeal reports in seconds.
With Uniformity King, you are able to login and create property tax analysis reports that project how much financial opportunity there is for your clients save. As well as calculate your estimated potential invoice.
The property tax analysis reports work well to move property owners 'off the fence' and convert prospective clients into a fully engaged clients.
You'll be able to build uniformity arguments, consisting of 3-5 comparables, by querying through thousands of latest Cook County assessment data records expeditiously.

You may select the data filters (Section, Class, SqFt, BAVperSQFT, etc) that provide the strongest comparables to choose from for your assessment reduction argument or you may let the proprietary automated valuation model algorithm do the work.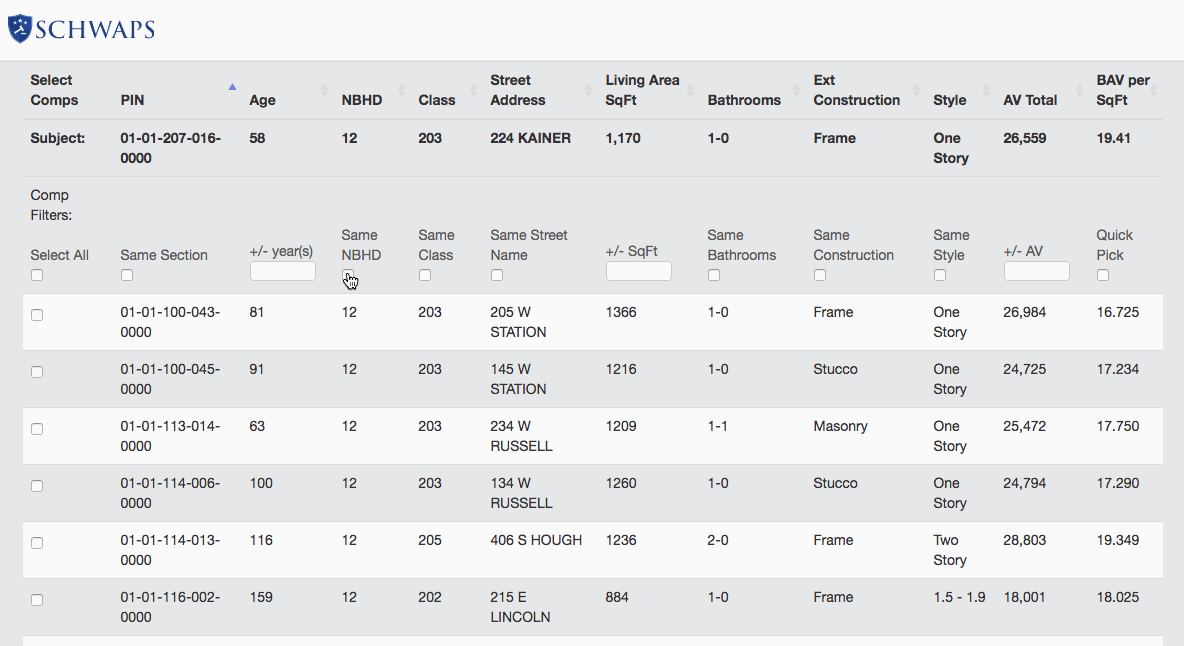 Quickly, you can generate a PDF download of your residential property tax appeal complaint and evidence file formatted for your law firm and created compatible per respective submission bureau (Cook County Assessors Office, Cook County Board of Review, Property Tax Appeal Board).
Click the image below to view a full PDF sample evidence report.

Product Demonstration:
Benefits:
Setup township specific deadline alerts
Be able to provide an instant property tax analysis report to prospects to aid client engagement
It's compatible with split-pin and single pin residential properties (list the classes)
Quickly generate alternate arguments for short re-review deadline windows
Assessment data updated within 5 business days of township publication
Reduce labor costs with increase employee efficiency as a result of this tool
Live instructional trainings
24-hour tech support
Uniformity King Pricing:
Our Uniformity King software is web-based and requires no installation. In other words our application is cloud-hosted and with a software subscription you'd be able to work from any PC or Mac computer.
Start-Up Subscription
4 Uniformity Reports a month (48 per year)
Latest Cook County Assessment Data Integration
24/7 Web Access
Live Trainings
24/7 Tech Support
x
x
x
x
x
x
x
Business-in-a-Box Subscription
Unlimited Uniformity Reports
Latest Cook County Assessment Data Integration
24/7 Web Access
Live Trainings
24/7 Tech Support
Pre-Qualified Client Prospect listing
Custom Law Firm Website
Township Publication/Deadline Alerts
Exemption Checker
Mobile Compatible Client Engagement Module
e-Signature for Contracts
Transactional Email
If you'd like to sign-up or learn more about our Uniformity King software for attorneys, please click here to schedule a convenient time for a phone consultation.
Ala Carte - Property Tax Appeal Evidence Report
$97 per ala carte property tax appeal evidence reports for when you have a deadline coming up and you simply want single uniformity or market value property tax appeal evidence reports. Each property tax analysis and appeal evidence report is provided by a Real Estate Tax Analyst. We know you're in a rush, thus each report is completed and delivered within a 48 business hour turn-around time.
If you'd like to sign-up for our ala carte property tax appeal evidence reports, please schedule time below for the first step of client-intake.
If you'd like to take your law practice to the next level.
Let's talk.